<< New Features in openCRX v2.8 >>
In addition to the above, openCRX v2.8.5 also includes the following features:
---
Looking into alternatives to Java
Recent developments around Java, particularly since Oracle bought Sun, give reason to be very concerned about the future of Java as we know it. This blog post explains the reasoning behind the ASF's decision to leave the JCP EC and it also contains various links to background information.
We fear that Larry will do to Java what he did to MySQL and many other projects/products/companies. As a consequence we are looking into how to best migrate away from Java. While we will co-ordinate our steps and decisions with other major players in the Java eco-system (the ASF, Google, etc.), we have already begun to look into Scala as a potential migration target.
Feel free to
---
WebDAV
openCRX features a new WebDAV servlet. Once a user has created a Document Profile he/she can connect to openCRX with any WebDAV client to manage documents (including revisions, etc.).
Most Linux distributions support WebDAV out of the box (e.g. Dolphin is a great WebDAV client on Kubuntu, Nautilus works just fine with the Gnome desktop - you might have to install the davfs2 package...), on Windows you might want to use a third-party tool like BitKinex to avoid the quirky implementation of Microsoft's web folders. On the iPhone you might want to look at the Notebooks App.
---
CardDAV
openCRX features a new CardDAV servlet. Once a user has created a Card Profile he/she can connect to openCRX with any CardDAV client to manage contacts.
---
E-Mail Import with Auto Assign
We taught the openCRX E-Mail importer a few new tricks to facilitate the use of openCRX for E-Mail support. Details of how this new feature works will be available in the openCRX Admin guide once it is available.
---
Support for Party Status of ActivityParties
openCRXS newly supports a Party Status of ActivityParties. The Party Status has the same semantics as ICalendar PARTSTAT:
* PARTY_STATUS_NEEDS_ACTION
* PARTY_STATUS_ACCEPTED
* PARTY_STATUS_DECLINED
* PARTY_STATUS_TENTATIVE
* PARTY_STATUS_DELEGATED
* PARTY_STATUS_COMPLETED
CalDAV and ICS servlets support this new feature as well so that calendar clients like Mozilla Calendar can be used to manage attendees and the status of attendees.
---
Extension Sales Volume Budgets
SalesVolumeBudget is a subclass of Budget which allows to define sales volume budgets and targets and to collect sales volume contributions.
SalesVolumeBudget allows to define a sales volume target for a set of accounts in different roles. Supported roles are: customer, sales rep and broker. The operation assignBudgets() on contracts and contract positions allows to automatically identify and assign the matching budgets to contract positions. The operation SalesVolumeBudget.recalcBudget() iterates all contract positions with an assignment to the invoked budget. The contract positions are then matched to budget positions (product and currency / uom must match). In case of a match the contract position acts as contribution to the budget position which results in the creation of a simple booking on the assigned depot position. The contribution type allows to define how the contribution is calculated: either based on the contract position's quantity or one of the base amount, amount, discount amount or price per unit values.
---
Twitter
Configure twitter accounts and timelines on various openCRX objects such as user homes, accounts, activities, and products. The openCRX Admin Guide contains information about the implementation and configuration of the openCRX Twitter adapter.
More information about Twitter is available from www.twitter.com
---
IMAP IDLE
The openCRX IMAP servlet now also supports IMAP IDLE, an IMAP feature described in RFC 2177 that allows a client to indicate to the server that it is ready to accept real-time notifications. This comes in quite handy if you have an Android phone and want to receive real-time notifications of new openCRX alerts.
k9mail for Android, for example, supports IMAP IDLE:

---
CopyDB with Provider change
The utility CopyDB now supports changes in provider name when copying a database with the new options
* -Dprovider.name.source
* -Dprovider.name.target
---
Workspaces (GUI Extension)
Workspaces enable you to organize your work any way you like, e.g. based on workflows or thematically. It is easy to create workspaces for contact management, bug tracking and support, etc. Workspaces are managed by the segment admin.
A new left-pane holds the workspace-level dashboard. The global workspace-level dashboard works like the (horizontal) object-level dashboard:
* dashlets can be added removed by admin or user
* dashlets can be shared by admin by prefixing the label with a *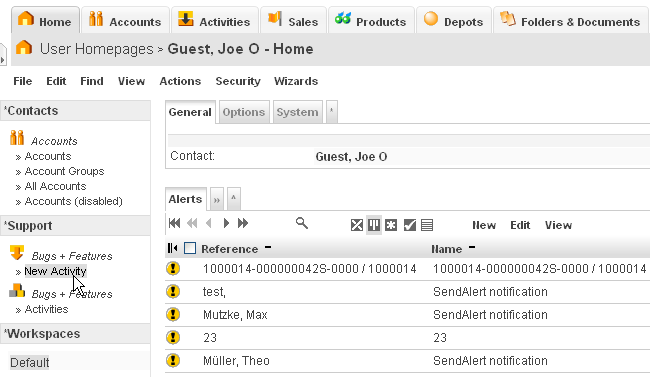 ---
Activity Replication
Activity replication is supported as follows:
Activities linked with the link type 'is replica of' or 'is replica of (obfuscated)' are updated whenever the original activity is modified. The method Activities.replicateActivity() allows to control the replication at attribute-level. By default, attributes are replicated as follows:
In case activityLinkType is 'is replica of':

name
description
detailedDescription
misc1
misc2
misc3
location
scheduledStart
scheduledEnd
actualStart
actualEnd
dueBy
priority

In case activityLink type is 'is replica of (obfuscated):

name (from activityLink.name)
description (from activityLink.description)
scheduledStart
scheduledEnd
actualStart
actualEnd
dueBy
priority
Upon creation of new activities the creation of replica can be controlled with the method Activities.getActivityReplicationDescrs(). E.g. a custom-specific extension of getActivityReplicationDescrs() can replicate activities created with the creator 'guest~Home~Meetings' with the creator 'guest~Private~Meetings' and obfuscate the replica.
---
Shop Front End
One candidate for a cool shop front end to openCRX is PrestaShop:

We implemented an adapter that can connect to PrestaShop instances and imports all the relevant data (customers, products, prices, orders, etc.) into openCRX - click on the following image below and give it a try (if you register and enter orders, you will be able to find the respective data on the openCRX demo server):
| | |
| --- | --- |
| Username: | guest@opencrx.org |
| Password: | guest |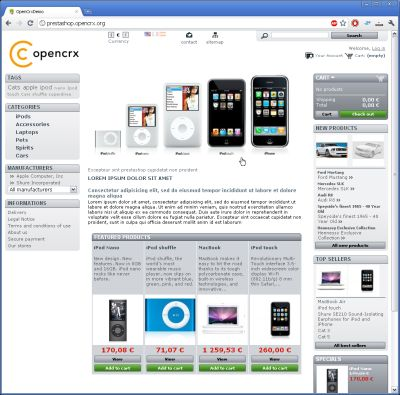 Information on how to setup/configure everything is available in the openCRX v2.8.5 release notes.
---
openCRX Server Installer with Apache TomEE
Apache TomEE, pronounced "Tommy", is an all-Apache stack aimed at Java EE 6 Web Profile certification where Tomcat is top dog (more information about Apache TomEE is available from http://openejb.apache.org/3.0/apache-tomee.html).
The new openCRX Server installer includes Apache TomEE so that the whole installation process can be completed in one go and there is no more need to deal with a Tomcat installer.